Tent Camping:

Anytime from August 2nd – August 13th
30.00/person/night or $200 for the Whole Rally

          Tent Camping with Electric:

$175.00 per person plus $100.00 for site (bring a 75 ft cord)

NO A/C UNITS  with tent camping.

Full Hook ups (Water, Elect , Sewer)

*(August 2 – 13)

$1025.00 (Includes 2 people)
Extra people $200/person, Additional nights $50/night

Limited Hook Ups, Elect 30 or 50 amp, water. Extra Long Sites

*(August 2 – 13)

$925.00 (includes 2 people)
Extra people $200/person, Additional Nights $50/night

Limited Hook Ups, Elect & water.

*(August 2 – 13)

$925.00 (includes 2 people, extra people $200/person)

RV Elect only site (30amp) with water available without moving your rig

$800.00, 30amp (includes 2 people, extra people $200/person)

Dry RV Sites (no hookups)

$550 includes 2 people, extra people are $200.00 each. (There is water available)

Cabins for 2 people
Cabins for 4 people

*(August 7th – August 14th)

 

Cabins have AC,refrigerator, microwave, coffee pot, table/chairs, picnic table…Bring your own linens

Take advantage of our free shuttle to town. Bus runs beginning on the first Friday and will run through the last Friday. First bus starts at 6:00PM – Last bus run at 1:00AM 

Reserve now with 50% deposit due at booking, balance due January 31, 2023
Rates
RV full hookup-sewer electric water $50
Electric and water $40
Electric only $35
RV Boondocking lot of room! $20
Pump outs for sewer cash only $35
Tent with electric $25
Tent dry $15
Awnings $25
Cabins for 2 $40
Weekly rate $200
6 nights
Cabins for 4 $65
Weekly rate $325
6 nights
Unlimited off-season storage available. We require your vehicle or RV to be winterized and self-insured. Monthly $50
We have wireless internet service in central part of campground.

We have laundry facilities.

Ship your stuff via UPS, Fedex, or regular mail

Our shower house has a continuous hot water system, individual stalls with curtains and doors. Complete privacy! There are sinks, mirrors, vanity lights, and electrical plugs. Kept clean 24 hours. Lockers are provided at the shower house, for your shower stuff or valuables.. bring you own lock.
We have private flushing toilets – also kept clean 24 hours.
We have handicapped shower and toilet facilities.

We have good home cooked food being served 6:00 am to 11:00 pm.

We have nice log out houses throughout the campground – kept clean 24 hours.

We have limited campsites with covered awnings.

We have new cabins that will sleep 2 to 4 people, AC, refrigerators, furniture.

Small convenient store which supplies COLD BEER, pops, bottled water, rally products, cigarettes, ice, etc.

Pooltable
Van

We have our own bus that goes to town and back starting at 6 pm till 1 am. Does not stop at other campgrounds.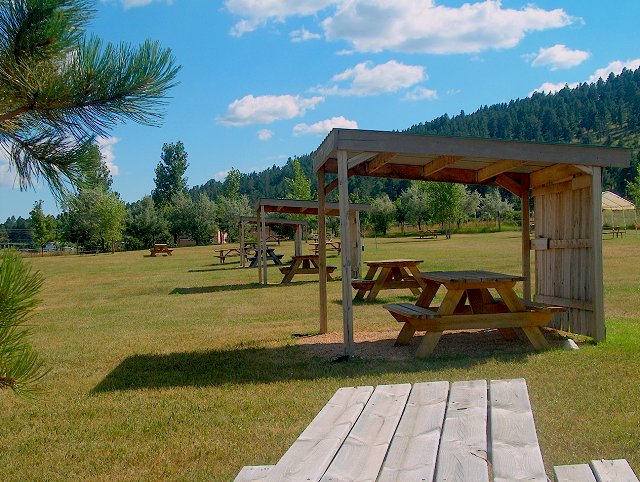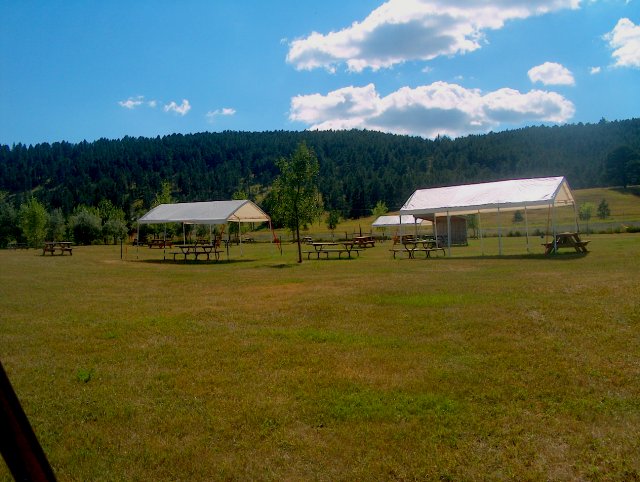 The gallery was not found!
Campground Policies and WebSite Legal Information
We are privately owned and operated and reserve the right to anyone for any reason. We are here to help. If you see an issue please let one of us Katmandu peeps know.
Payment Policy
We accept checks, cash, Discover, Mastercard and Visa Debit/Credit Cards only. Reservations must be confirmed with a credit card.
Reservation deposits for cabin rentals are collected at booking for first night stay.
you may cancel your cabin within 14 days of arrival and will be refunded 80% of your deposit.
RV cancellations made after 2 PM on the day prior will be charged for the first night stay.
No subleasing of any kind on cabins, RV sites, Campers or tenting.
Vehicles and all equipment must be kept in your assigned site and clear of the roadway. There is lots of overflow parking if needed just ask.
Early departures
All camping and cabin fees are paid at check in. If you choose to depart early, we do not issue refunds so please plan your stay accordingly and enjoy the Hills!
Late Arrivals
We strongly encourage you to arrive in plenty of time to get settled in before it gets dark. We do not allow late arrivals as it is disrupting to our other guests and it can be dangerous. NO PARKING AFTER DARK
Quiet and well behaved pets are welcome as long as their parents clean up after them. Pets are not allowed in the shower house, restrooms or tied outside of any of the buildings. If your pet becomes a nuisance you will be asked to take them to a kennel or leave. No refund issued. Do not leave your pet leashed outside when you leave Katmandu!
Parents please accompany your children outside of your site.
No smoking in the shower house, rest rooms or cabins $250 charge for smoking in cabins Please and thank you for picking up your cigarette butts.
If you need another picnic table please ask for help.
No dishes in the bathroom sinks please the use the one in the laundry area.
Quiet hours 10PM to 7AM
Generators allowed for boondocking only
Visitors to your site must check in at the office
Please Note
This property is privately owned and operated. We reserve the right to refuse service to anyone and including removal from the property without refund.
Guests will be held responsible for their own actions resulting in damage or vandalism to the to the properties or facilities
We are not responsible for accident or injury to guests or an y loss of valuables, property or money.

Note: You may cancel your reservation anytime up to June 1, 2021, and 80% of your payment will be returned to you. After June 1, your reservation is final and non-refundable for any reason and is forfeited if you are unable to attend the annual Rally. All deposits paid are final and non refundable.
Camping sites within the campground will still be selected on a first come basis. RV sites are preassigned and you are guaranteed a specific site. We have a set number of campsites from the State, therefore when that amount has been reached, we will no longer take any more reservations. This campground will not be overbooked nor will you be camping on top of one another. You will have ample space to camp. You will be allowed to keep all that you bring with you at your campsite. We are located on the Black Hills Forest side of the road; all campgrounds during the rally are not allowed to have open fires, so leave your firewood at home. You can have grills at your campsite for cooking. Each person must wear an official Katmandu wristband at all times. We have good gravel roads packed and chemically treated for dust control.
Permission to access this information is restricted to people who accept the
The business, Katmandu RV Park & Campground is located near Sturgis, South Dakota. It's principal business office, from which all business is done, is located at 12927 Katmandu Ln, Meade County, SD 57785
Phone: 605-347-2451, E-Mail: reserve@katmanducampground.com
All issues or disputes involving Katmandu RV Park & Campground or anyone acting on its behalf, whether the issue or dispute involves the purchase of product, tort claim or any other dispute, shall be resolved, whether by arbitration or legal action, within Meade County, South Dakota.
Legal jurisdiction is agreed to reside in Meade County, South Dakota, and venue of all dispute resolution is hereby contractually bound and limited to Meade County, South Dakota.
Any lawsuit must be prosecuted solely in the Circuit Court of Meade County, South Dakota.
Linking information is provided "as is", and Katmandu RV Park & Campground does not endorse or take responsibility for what people find there.
Your privacy with Katmandu RV Park & CampgroundWe are committed to protecting your privacy. We use the information we collect about you to process orders and to provide a more personalized camping experience.
We will NOT Sell, Rent or Distribute your information to Any Outside Parties!
Your Consent
By using our website, you consent to the collection and use of this information by Katmandu RV Park & Campground. If we decide to change our privacy policy, we will post those changes on this page so that you are always aware of what information we collect and how we use it.
Thank You